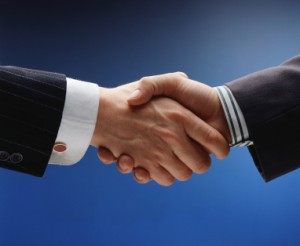 Making a Great Hire
We're back again to wrap up this series on good hiring practices for more efficient and productive hiring.
Initially we discussed the pre-interview stage: solidifying a hiring strategy for your property management business and ways to approach and conquer résumés. Then we looked closely at the actual interview performance, how to take a team approach and identify the right people for your company culture. At this point, you (and the rest of your team) are likely on the same page about how to identify people who fit with your company's identity and core values'making hiring easier.
This third and final installment of the series is devoted to some final tips for enhancing your hiring strategies. While spending time with Nichole Sandy, Administrative, IT, and Recruiting Manager at LCS, I gathered some of her best tips and tricks of the trade to share, including securing superstars'to help all of us in the property management industry hire better.
Recruit the RIGHT Way
Dig into what's out there. Make it a practice once a week to research your competition, whether or not they are hiring, where they are recruiting from, and how they are presenting their companies.
You never know where you're going to find the right fit for your business, so it's best to post your ads on a variety of sites and forums.
College Fairs
Career Fairs
CareerBuilder
Craig's List
Hint: Beware of people who are only applying to jobs to continue receiving certain types of aid (like unemployment).
Network, Network, Network! Make sure you're a regular presence at industry-related events and meetings. People attending those events and meetings have jobs in the property management industry, and that's good! Some of them could be looking for an opportunity… or they may know someone else who is!
When You THINK You've Found the Right Person…
How do you know that you've found the right person?
Perhaps a better question to ask yourself is: How do you know that you DON'T have the right person?
Here's a tell-tale sign to go no further in the interview process. It's the big "red flag" for hiring… when to recognize a candidate is off the table," so to speak.
The BIG Red Flag: When Money Talks
Of course money and benefits are important factors candidates consider when considering a new job. But beware of the prospective new hire who is a little too interested in talking money right out-of-the-gate.
Sandy says 'what does this pay?' is never the first thing out of the mouth of a good hire. It's pretty safe to say that if money is top-of-mind for the candidate upon your first meeting, the prospect probably isn't thinking about a career choice. Even if we don't offer their ideal number [salary], there are other important benefits besides hitting their top dollar that should be motivating to new hires (like company stability and growth), Sandy adds.
In other words, an ideal candidate recognizes his capacity to ultimately make his desired amount. More importantly, good hires are looking for a long-term career: ways they can benefit, assist and help the company. The rest of what they want will likely come to them.
Superstar Payoff
You hear about them, but do you hire them? We've been focusing on great hires, but there are those much-sought-after superstars who light up a company roster in a very special way. They are committed and charismatic, and you want to make them long-term teammates.
So how do you attract and keep property management rock stars? Consider these tips:
Promote on Merit. If you're organization has a practice of promoting based on seniority, you may want to think again. Most superstars will want to know they have a chance for promotion based on their accomplishments and contributions. Make it clear in the interview that you're looking for people who can demonstrate they want to grow and further the company. Then there's no confusion about your company's practices.
Communicate F-U-N. When you're ready to make the hire, you may want to consider communicating an element of fun or camaraderie that exists in your company. If your prospect is sought-after, this may be a deciding factor in their decision. Even if your organization is smallish, showing community or teambuilding within the company is important.
Company Visibility. Attracting industry superstars takes work… and visibility. Make sure your business has a presence and ideally an established reputation in the biz. If you're just starting out, this is something to strive for.
Provide a Path. Ask yourself: Is this person engaged? Does he have ideas? Do you want to help her grow? You've made it clear that YOU want someone who will grow with and advance your business. But have you paved a path for the future new hire? Superstars want to know that there's a place for them in the long term, and that it's a mutually beneficial situation.
Going deeper with your hiring process requires a lot of effort, as much from the hire-ers as the hire-ee. But the payoff is worth it. Put in the work necessary to attract great candidates, conduct meaningful interviews, and separate the winners from the losers. You'll add assets to your staff… not simply fill open positions.