Rent Manager® is seriously customizable software'so much so that all of you seem to use it differently. Our Implementation and Support teams marvel at the innovative and inspired program modifications you share with them every day. But did you know that there's a Rent Manager resource that can help make tailoring the program a snap?
We created the Online Template Library (OTL) to help you expedite and simplify the process of customizing Rent Manager to meet your specific needs. Letter templates, custom reports, custom tabs, custom forms'the OTL is full of resources that you can use to make the software your own.
These convenient templates are created by LCS employees and fellow Rent Manager users for quick integration and use in the program. Template examples include customized owner statements, overdue rent letters, owner web access login instructions, and more.
You want to take a look, don't you?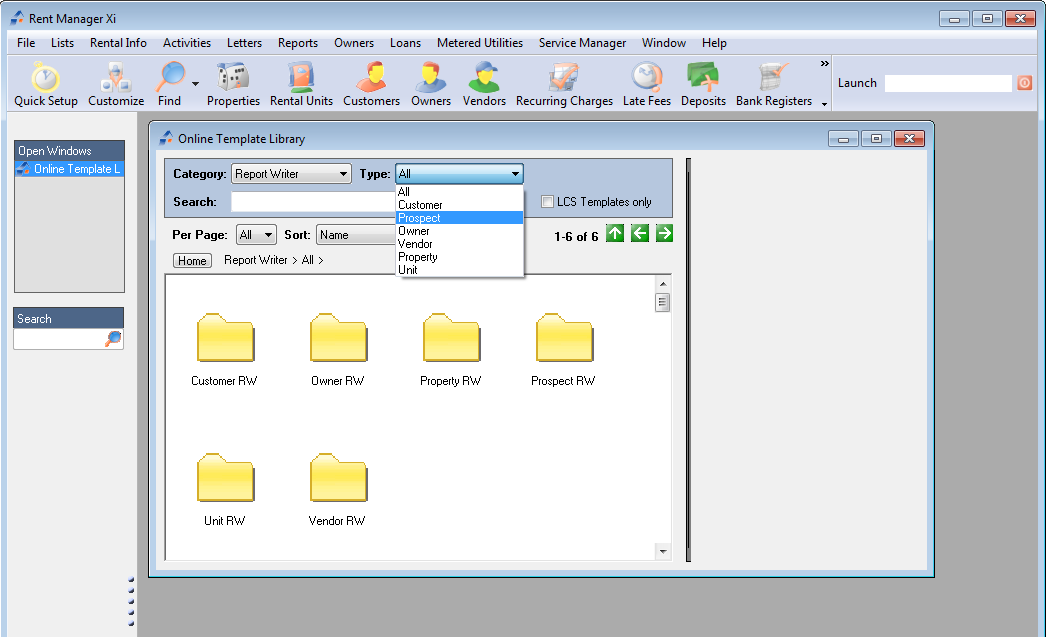 To access the OTL, go to Activities and then select Online Template Library.
When the OTL opens, you'll be able to see every available type of template. As you'll quickly discover, there's a lot to see and do in the library, so be sure to take some time to familiarize yourself with what's available before diving into searching for templates.
Your next step will be to select a template category using the dropdown menu at the top of the page:
Letters
Report Writer
Financial Report Writer
Custom Tabs
Custom Forms
Imports
There are a variety of templates within each category, which are organized in folders by level (customer, owner, unit, vendor, etc.). To view the templates for each level, just double-click on a folder and take a look at all of the pre-existing files that are available for your use.
! You can also use the OTL search feature to expedite your investigation, just enter the keywords that relate to your specific needs and Rent Manager will identify the corresponding templates.!
To take a closer look at a particular template, just select the thumbnail to view it (and View Preview to get see it even larger). When you decide that you'd like to try out a file within Rent Manager, just click the Download button in the lower right corner of the page. Accept the terms of use, and the download will be complete.
To access your new templates:
Letters: Go to Letters > Letter Template Manager > select the level from the Templates drop-down list.
Reports: Go to Reports > Report Writer > Report Writer Manager> select the level from the Reports drop-down list.
Custom Tabs: File > Setup > Custom Tabs > Tab Designer > select the level from the Form Type drop-down list.
Custom Forms: File > Setup > Custom Forms> select the level from the Custom Forms drop-down list.
! Depending on the template, you may need to set user permissions and edit settings to make the template available.!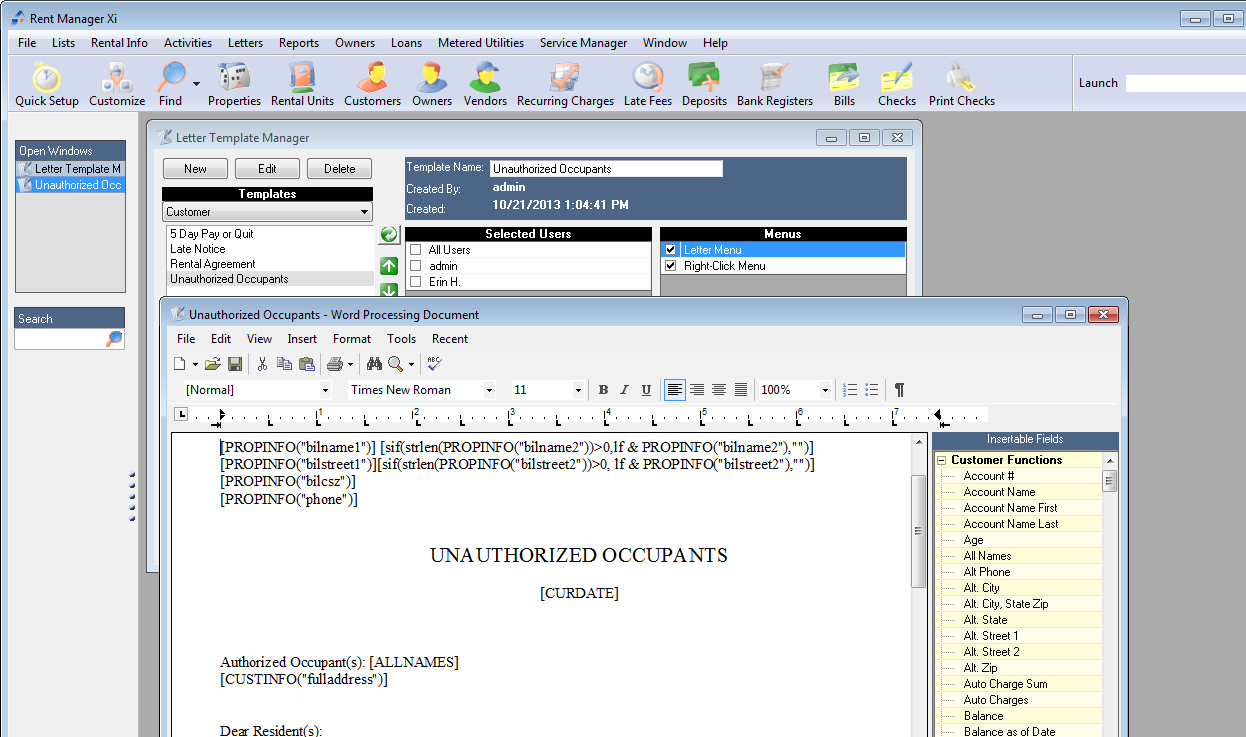 When you open your new template, you'll see that you have the ability to edit the file by adding/deleting fields, changing text, updating formulas, rearranging layouts, adjusting fonts'these files are as customizable as you need them to be.
Once you've tweaked your template'or not*'you can put it right to work:
Letters: Go to Letters, select the appropriate level, and click on your new template
Reports: Go to Reports > Report Writer, select the appropriate level, and click on your new template
Custom Tabs: After making the tab available from the Tab Manager, go to the appropriate level (customers, owners, vendors, etc.) and the tab will display in the order you specified.
Custom Forms: Go to the appropriate area in Rent Manager and generate the form as you normally would. The new template will be available as an option in the list.
* OTL files are all ready-to-use, so if you like what you see and don't want to make any changes, you can use them from the moment you download them.
Gone are the days of having to create Craiglist ads, vendor comparison reports, make ready forms, or custom tabs from scratch'which can be a time consuming process for even the most-seasoned Rent Manager pros. The OTL gives you tested, effective files that are ready to use from the moment you download them. Save time and boost your operation today with the Online Template Library.
! Want to add a template to the OTL? Go to the template you've created, click the Export drop-down arrow > select Online Template Library, and accept the terms of use. Once reviewed for originality and tested for accuracy, your template will be made available for all Rent Manager users.!