The 2014 User Conference, like all past conferences, is so much more than just a live Rent Manager® learning event. RMUC.2014 is a one-of-a-kind opportunity to network with other Rent Manager users. The conference provides a chance to connect, share ideas, and find out how other management professionals are utilizing the software to benefit their businesses.
Here are a few ways you can connect to other field experts while attending this year's User Conference:
Kick-off RMUC.2014 Right!
The Opening Reception is a great way to meet other property management professionals, from residential, commercial, single- and multi-family, as well as owner-operators and management companies. Converse and exchange excitement for the kick-off of the conference over hors d'oeuvres and drinks.
Set a Course for Adventure… at the RMUC.2014 Social Event!
The Twilight Cruise is the RMUC.2014 special social event for all attendees. This sunset cruise off the coast of San Diego will allow you and other conference-goers to relax and enjoy the skyline from the Inspiration Hornblower a 222-ft. yacht. Dinner and drinks will be provided, followed by a Monte Carlo-style casino night, where you'll have the chance to win several prizes. This cruise is one stop on the RMUC.2014 itinerary that allows you to kick back and enjoy the company of others. This is a can't miss event!
Connect with Others in Between Educational Sessions
Something new at this year's conference are Networking Meal Sessions. Taking place at lunch on Tuesday, breakfast and lunch on Wednesday, and breakfast on Thursday, these chat-and-chew sessions will provide an organized way of meeting new professionals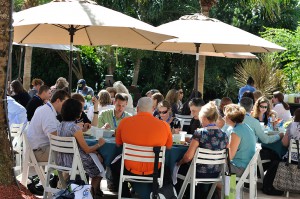 whose background and experience complement yours. Each day will feature a new way of grouping everyone together, and the tables will be marked accordingly. These categories include number of years with Rent Manager, industry, job title or role, and state or region. We group you with commonalities, so you don't have to.
This year's User Conference is implementing new ways for you to connect to other industry professionals. More than 500 Rent Manager users will be in attendance, representing a wide range of portfolios and specialties. But don't just take our word for it, see what past conference attendees have said!
It was great having the opportunity to see how others customize and use Rent Manager. I have many ideas to take away. Julie Scanlan, Zeman Homes
This was my first conference, and it was a great experience. Our company has been to four previously. I attended the commercial round table and found it interesting to discuss what everybody else in the industry was doing. I enjoyed meeting other people in the property management business. Love the social on the beach! It met my expectations and more. I will definitely attend another conference in the future! Brian Cowger, Matchbox Realty

I always learn something new every year. The employees know what they are talking about and can answer just about any question you ask, regardless of their department. I also like meeting other users and seeing how they use Rent Manager. Jeremy Aspen, Certified Property Management
Don't miss out on your chance to connect with other Rent Manager users, just like you! Register now!