After moving to Cincinnati over four years ago for a job in hospitality management, Liz Engel reflects on her journey to LCS. Born and raised in the small town of Wayne, Ohio, Liz brings a certain warmth and charm to the sales team, as well as tenacity for bigger things. Here she weighs in on why corporate culture is important to her, and what makes her unexpected sales career at LCS so rewarding.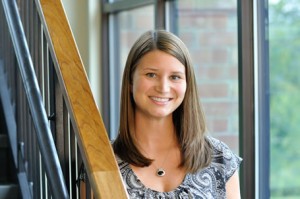 So you moved to Cincinnati for a different job, what brought you to LCS?
I graduated from Ohio State with a degree in Hospitality Management. It was a great job in theory, working banquets and planning events, but parts of the work were wearing on me. One of my coworkers (who was also working at LCS) convinced me to interview there. And when I did I was immediately sold…Now I've been at LCS almost 3 years.
Sounds like a big change: hospitality management to property management. Tell me about that.
I'm into planning and organization: I like organizing people and things. At LCS I can still have these benefits and tasks, but in a different way. I help clients and their businesses get organized with Rent Manager®. I play a role by helping them order the information they are putting in the software.
And then the shift to sales, did you always see yourself as a potential sales person?
Yes and no. I've always admired the property management industry. But I wasn't sure I was the sales-person type.
I'm not pushy, and I don't want to be the disingenuous salesperson, the stereotypical sales-type. But my clients know they can trust me to help them make the right decision. I have an ethical sales approach, and I really believe in the product I'm selling.
It sounds like selling Rent Manager® at LCS has turned out to be the career you were looking for.
Yes, coming to LCS has been a breath of fresh air. Dave Hegemann (the CEO) runs a class-act organization. Dave only hires great employees. Everyone is talented and we all have the same goal. We're on the same team. We care about our products, and we care about each other.
You're so positive about going to work each day. What's a highlight of your typical work day?
The best part of my day is dealing with new situations and client needs. Even when days are similar, there is always something that you're not expecting or something that is different than the day before, especially since we deal with so many distinctive situations with Rent Manager®.
I also look forward to seeing my work family. We spend a lot of time each week at work, so you grow to know your surrounding group quite well.
This is a lot of talk about work. What about when you're not at the office?
Time with family and friends. And I like to work on my house and scrapbook. Shopping and working out are important, too.
This takes us sort of full-circle back to your hometown: Wayne. How did growing up in a tiny, rural environment prepare you for your life now?
I grew up with a population of 800. Surrounded by cornfields, my two sisters and I decided we'd raise our kids in a place less rural and more suburban. That's why I chose OSU for college, where I was the ONLY one from my class of 90 who attended a large university. I have come to love the city, not necessarily a downtown feel, but I like the convenience (and not having to drive 20 minutes to get a gallon of milk).
Growing up in such a small community definitely makes me appreciate my career now. Working at a sizable company of 90+ employees has been a good fit. I guess maybe I've moved beyond the small town feel and onto bigger things….