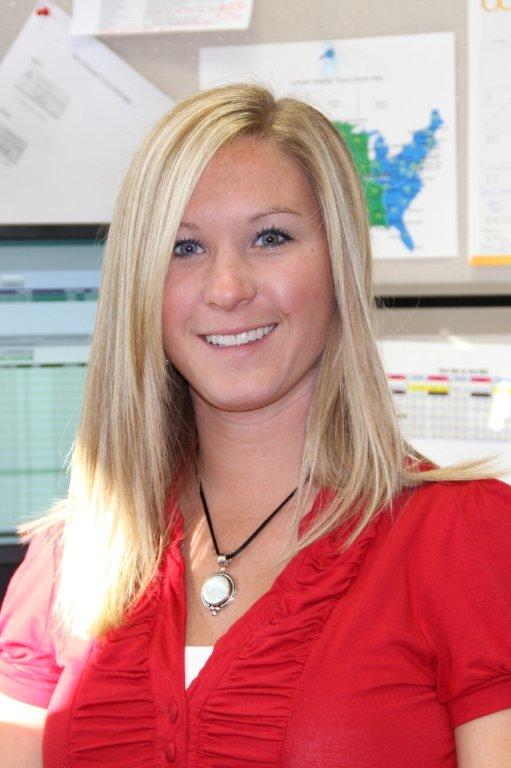 She's bright, bubbly, and what you don't know upon first meeting Joanna is how deeply devoted she is to her inner accounting nerd. As the Support Team's Floor Manager, Joanna is all in. She consistently goes the extra mile with a smile on her face. Find out how LCS's hometown-girl stumbled upon her life's work almost four years ago'and how she's made her mark as an overachiever with customers and coworkers alike.
You live in Loveland. How convenient!
Yes, I grew up here, and I still live on the same street I've lived on for 27 years. Right down the street from my parents. I love Loveland–it's off the beaten path… and only a five-minute drive to work each day.
What was college like for you? Did you commute from Loveland?
I graduated from Miami University in 2008. Big campuses aren't really for me, so commuting to the Hamilton and Middletown campuses was a good fit. Everyone was so close-knit there… just like LCS.
Why Accounting?
I started out majoring in nursing, then nutrition, and ended up falling in love with accounting. And now I use it in my job every day. We work with financial reports, checks, bills, customer accounts, deposits, and reconciliations.
Tell me about your journey to LCS.
Living in Loveland all my life, I actually didn't realize LCS was here! I found out when a family member (of a family member) told my sister about open interviews. My sister called me the night before the interviews and told me to go. I went in cold… And here I am!
What was your first impression of LCS?
I didn't know anything about the company until I started. And I had no idea when I met with Dave Hegemann during my interview that he was the CEO and founder.
When I started, I dug in right away. I'm the kind of person who has to know what's going on. So when it came to learning the job and software, I wanted to know the right answer as soon as possible… and I didn't want to wait. I figured out a lot by taking screen shots and writing everything down. That's how I learned: Pay attention and dig into the software.
What's the best thing about LCS?
This is the first job I've ever felt happy to wake up in the morning and come in for. I'm focused on what's going on in the software, what affects what. But it's the family-like atmosphere that keeps all of us coming back each day. We all love the product, but the people are even better. We're always growing and learning something new.
Why do you like Support?
Helping people. I absolutely love talking with customers. They are smart, funny, and we really build relationships with them. One of my favorite things about taking calls is having repeat-customers who call back and request me. It's a great feeling.
I was promoted in 2010 and don't take as many calls as I used to. I have to admit that I miss talking to customers more….
How's management treating you?
It's great! And I want to go even further. But I'm good where I am right now… I would LOVE to manage customers' books at some point. I like solving customers' issues, and I like figuring out what updates what in the software.
How would you describe your job?
Non-stop. My work is a pin-ball machine and I'm the ball. I never sit down; I'm jumping from person-to-person-to-person. Occasionally I get to rest, and then someone shoots me back out. I love it… and I wouldn't want to be still!
Is it true that you take support calls on some weekends?
Yes, I share the tech-phone, and when it's my weekend, I take calls. Sometimes my husband has to wait for me… but I'm devoted to helping people when they need it.
What about your time outside of work:
I love helping my three step-kids with their homework… especially math. We have three dogs, a bull mastiff, pit-bull, and shepherd mix. All adopted from the shelter. We're on the Loveland bike trail almost every night.
Fishing, camping, horses, biking, basically anything outside. And we spend a lot of weekends at Lake Cumberland.
FUN! Do you water-ski or jet-ski?
No, but I love cliff-diving. It's a family thing… we all do it!