On February 4th, Harrisonburg, Virginia was named one of America's Top 10 Safest Cities. This comes as no surprise to property management company Matchbox Realty & Management Services, run by CEO Barry Kelley, as they've made it part of their mission to prioritize safety at their properties.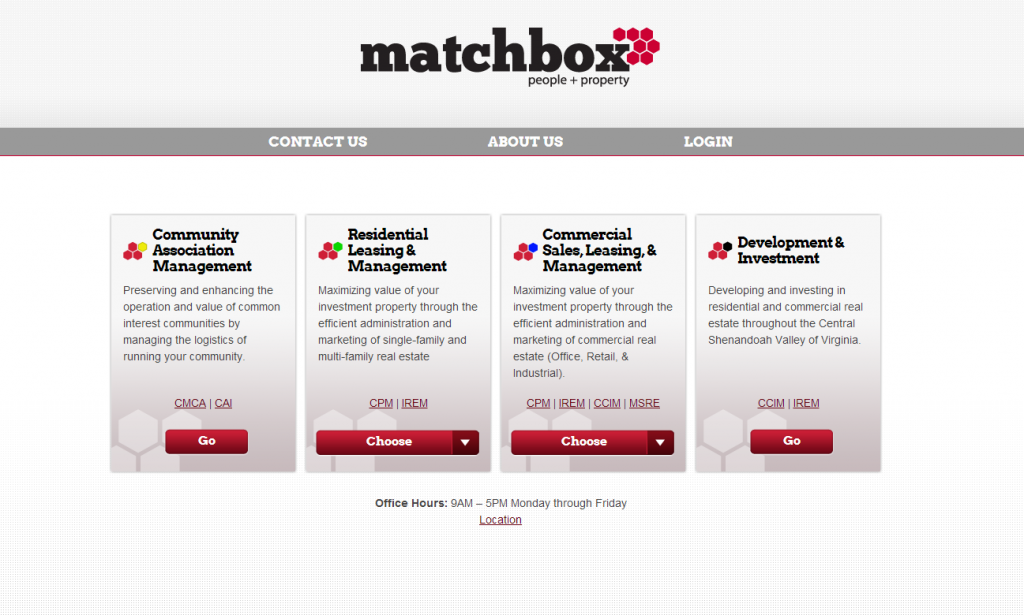 With an established history of reinforcing safe practices, Matchbox continues to stay in step with Harrisonburg's Safe City status by prioritizing safety education and implementation at all of their properties. And wisely so.
On December 1, 2012 an unattended candle started a fire at a Matchbox property near James Madison University. Despite intense smoke and flames, and $50,000 worth of damage, the unit's three residents safely evacuated the property without injury.
In response to the fire, Matchbox Realty has reinforced its existing safety awareness program, taking diligence to the next level by taking it social.
Matchbox Cares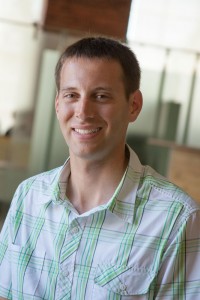 Brian Cowger, Director of Technology and a Portfolio Manager at Matchbox, explains, We manage a lot of student housing, and we realize that this may be the first time that students have lived away from home. Let's be honest'college students don't always have safety measures top-of-mind, so it's important to impart safety information clearly and often.
Matchbox Realty does just that with its newly launched Matchbox Cares campaign. The company's goal is to support its residents with safety practices and tips through various marketing strategies: Facebook posts, flyers, monthly newsletters, and email updates.
Brian adds, We've always been diligent about pushing safety awareness in the fall, and now we are making it a serious, year-round effort. By sending out weekly, relevant safety tips that relate to the hazards of associated with particular times of the year, Matchbox goes above-and-beyond to ensure the well-being of its residents.
"The Matchbox Cares campaign," Brian reflects, "has only been possible with the help of Mary Messerley, a Portfolio Manager with Matchbox and member of the Harrisonburg Fire Department. Mary gathers educational material and Marcy Eicholtz, Receptionist & Project Assistant at Matchbox, organizes catchy graphics to make sure our message is seen and remembered."
It's Not What You Say, It's How You Say It
What Matchbox does SO well is getting the word out and staying on top of communication with its residents. With students being a large percentage of its renters, Matchbox knows that many of them may not read their lease agreement closely. So with its Fire Safety "Cares" graphic, for example, the company made sure to point out the no-candle clause that's standard in every Matchbox lease.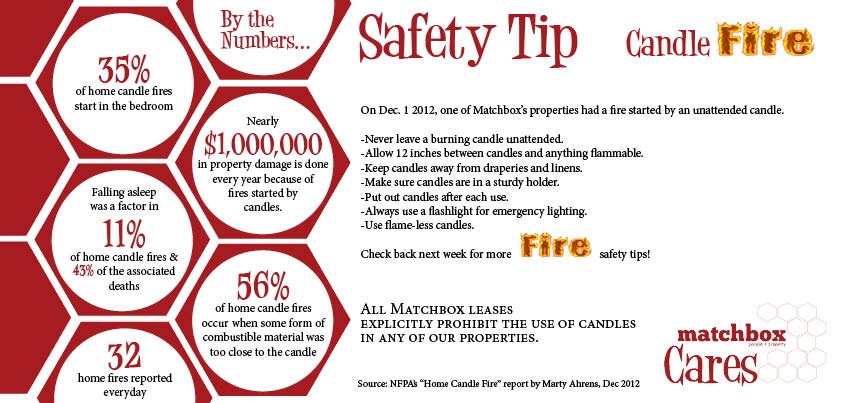 By repackaging the legalese of its official documents in an eye-catching format andsharing those details through the communications channels its residents rely upon (Facebook, email, etc.), Matchbox has increased tenant awareness and the welfare of anyone who visits its properties. Who'd have guessed that a jpeg could do so much?!
What Can YOU Do?
Stay on top of your policies: Be clear and concise about what is and is not allowed at your residences. If space heaters are discouraged, make that clear. Provide specifications about which types are allowed and those that aren't.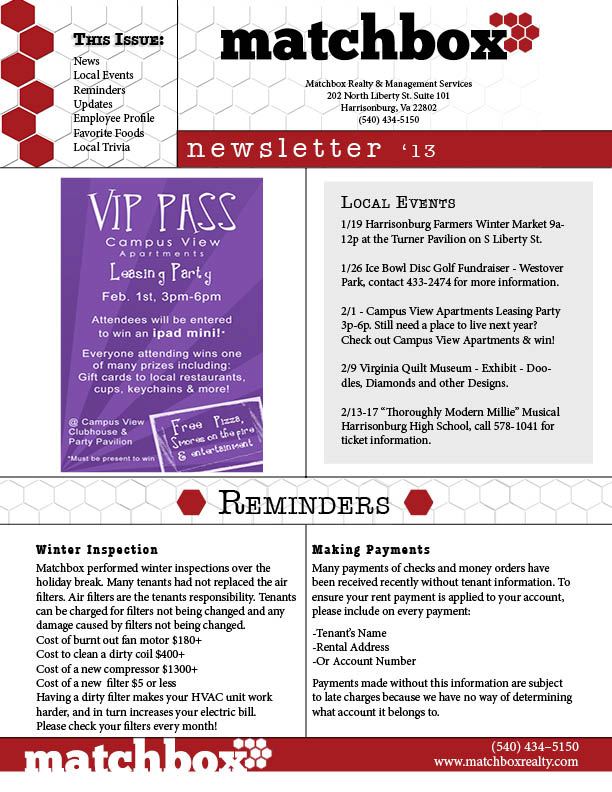 Remind and Reinforce:Matchbox uses a monthly newsletter'along with weekly email reminders and tips'to stay on top of safety. Don't assume that your residents know what to do. It's easy to share simple reminders and post tips to drive home your standards.
Get Organized and Make a Plan: Take a tip from Matchbox and organize your safety messaging around time of year or topic. Cold months are when you want to discuss fire hazards, space heaters, etc. When the weather begins to warm up, review water-safety guidelines, and property rules regarding grills,fire pits, fireworks, and so on.
Be Informed: Does your city have safety protocol or instructions you aren't aware of? For example, the Harrisonburg Fire Department received a grant in 2011 to install StoveTop FireStops in all the multifamily properties in the city. Knowing your city/county/state's available resources will surely benefit you and your residents in the long run!
Bottom line: Matchbox Realty keeps tenant safety top-of-mind and so can you. Jump on the safety train, and do your part to help your residents stay more informed and, accordingly, more secure.