Purchasing & Facilities Manager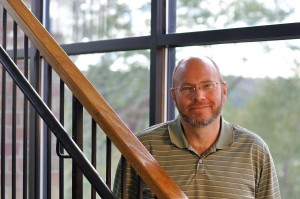 Meet Matt Purintun: Project manager and quintessential jack-of-all-trades. Most recently, Matt has embraced the role of Purchasing & Facilities Manager here at LCS, that is, after rocking a lot of other hats during his 12 year tenure…
From manning the phones in Support and managing the Support staff, to playing a crucial role in Rent Manager Online (RMO), this versatile, self-proclaimed nerd has more of an adventurous spirit than you might notice at first glance.
What DO You Do?
Matt handles everything from purchasing needs and setting up provider agreements, to managing the Rent Manager User Conference (RMUC) budget. He's also the in-house guru when it comes to the recent LCS building expansion,  facilities, furniture, security, and power. Basically, he's a guy who gets a lot of things done around here.
Variety IS… The Spice of Life
Matt's history of taking care of things spans multiple industries and skill sets. Spotted installing windows on skyscrapers for McAndrew's Windows & Commercial Glass Company once upon a time, Matt has an eclectic professional past. From sealant and waterproofing sales to a lengthy stay in the construction world, the variety of his work experiences has undoubtedly shaped Matt's breadth of knowledge, which makes him a vital asset to the company.
His diverse interests date back to Muskingum University in New Concord, Ohio, where Matt earned a History degree with three minors. This intellectual curiosity for many subjects, Computer Science, Political Science, Psychology, and of course, History, surely influenced an array of personal and professional experiences. He took his training inside the fields of construction, community involvement, and sales'making Matt an ideal prospect for a savvy company like LCS.
CEO Dave Hegemann's second hire, Matt explains, I got the job here because I had a broad background. And Dave trusted that I could take care of things.
A "Runner" of Sorts
A prime example of that trust is Matt's responsibilities during the RMUC season. On any given day, he can be seen running around LCS, personally ensuring that every piece of equipment and detail is taken care of. Matt takes care of contracts with vendors, construction projects, and oversees all internal hardware and licensing. (He REALLY knows hardware!).
I work closely with IT Services, Matt explains, helping them with estimates, purchases, and coordination. For most of us, Matt takes on the form of a phantom who magically takes care of things.
Speaking of running, this phantom likes his exercise solo-style. He completed a half-marathon in 2012, and can be found pounding the pavement of the beloved Loveland Bike Trail from time-to-time. Wherever we find Matt, it's always hard to keep his feet planted.
Family Man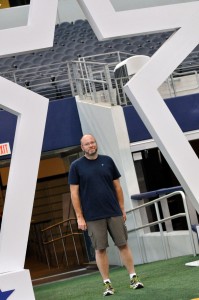 But Matt is far from an all work and no play kind of guy. The youngest child of a preacher father and Christian-educator mother, the practice of helping others was cultivated very early on. Although he self-identifies as the black sheep of the family (he was the only son of three who chose not to study divinity in seminary), Matt's history tells us otherwise.
Since college, he has mentored adolescents through various church-related organizations. Building in to kids and taking part in mission trips are activities he once shared side-by-side his wife, Susan, for many years.
Now that their time is largely spoken for with their own three children and family's commitments, Matt still manages to make time to volunteer: I haven't given up on it. He continues, I split my free time between home life, volunteering, and my kids' sporting events. I've really become a sports fan through watching my kids participate.
Matt's loyal, get 'er done attitude proves that he's more than just a good reputation, he's devoted to doing what it takes to guide and support his teams, at work and at home.
When asked, Why LCS? Matt responds, I like the wide variety of things I do on a daily basis… and the co-workers I share my day with. We like you too, Matt.