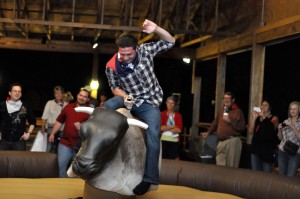 Kyle Schweikert is everyone's favorite guy at LCS. Warm, witty, and up for just about anything, Kyle will brighten your day with the sheer hop-in-his-step and cheer in his voice.
Part of our Quality Assurance (QA) team, Kyle is responsible for testing Rent Manager® software and applications. We caught up over a piping-hot cup of Joe to discuss his transition from college to the real world, and why he was so drawn to LCS…
Solid Roots
Originally hailing from Indianapolis, Kyle was firmly planted in the Kenwood area of the Queen City by Kindergarten. The eldest of three children, Kyle led an idyllic suburban childhood with bike rides and spontaneous baseball games.
After growing up in the 'burbs and attending prestigious Moeller High School, Kyle moved north to attend the University of Dayton and spread his wings, so to speak.
Dayton is where he found accounting… or, maybe more accurately, where accounting found him. Just a few years later with a strong internship experience at The Kroger Company and a fresh, dual degree in accounting and finance under foot, he was ready for life after college.
The Path to LCS
Shortly after graduation and a few interviews that just didn't fit, Kyle met Nichole Sandy, Recruiter and Manager of Admin and IT Services at LCS, at a University of Dayton job fair.
I got an accounting degree, but I wasn't drawn to public accounting Kyle explains. I wanted the interpersonal relationships that small, private companies could provide.
Nichole describes meeting Kyle with the same positivity that we've all experienced: He initially came across as confident and professional. We knew that with his experience and ambition, his opportunities for advancement were limitless!
Using his savvy, Kyle did his homework and discovered that he and CEO Dave Hegemann were both Dayton Flyers. So when the man himself interviewed Kyle, he was prepared with a common thread: It was pretty great to interview with the CEO. Where else would I get to do that?
A Budding Accountant, of Sorts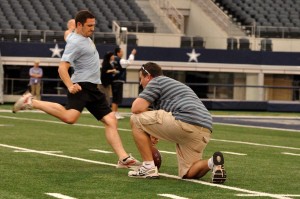 The personal touch that Kyle speaks to is what defines LCS and sets the company apart. Once hired, he learned all about the organization's commitment to customer service while helping Rent Manager users in Product Support.
It was my first job out of college, and I thought I knew everything about accounting… Kyle's eyes opened as he moved from more theoretical, classroom accounting to learning why people actually use journal entries.
Kyle was schooled on the ins-and-outs of practical accounting'and truly got to know the software holistically. But after a year and a half, while he loved contributing to the Support Department, this nimble chap found himself taking on a new role: QA.
QA is sort of the opposite of Support'where we take calls and focus on diagnosing and fixing customer issues, Kyle describes. In QA, we don't talk to customers, and we try to figure out the larger problem'like why something isn't working well.
Kyle showcases the sort of Midwest kindness and work ethic that this part of the country is known for. As it turns out, Kyle's spirit has earned him what Nichole calls model employee status. And as she kindly admits, that's hard to beat!
So why LCS, Kyle?
He doesn't hesitate, I'd have to say the people. He reveals, It's great to come here in the morning and talk to people you care about.
A Career in Bloom
The quality that comes to the fore when engaging with Kyle is his love of learning and desire to know more. This is no surprise, as he comes from a long line of very well-educated academics. He's sincere and earnest about education… in all the right ways.
I like accounting, Kyle admits. Well, clearly, since he's wrapping up his Master of Science in Accounting at the University of Cincinnati later this month.
But let's face it, Kyle wants to go further. He's already signed up for more classes this summer to learn coding language and other computer science tools. I may never actually write code, but I want to know how to do it, he explains.
He loves taking on projects… And this once-suburban kid is all grown up now, calling the city his home. For fun he runs 5K races and he recently tried his hand at a home brew.
What can we say? We're happy to have you, Kyle.