Sales Manager IT Services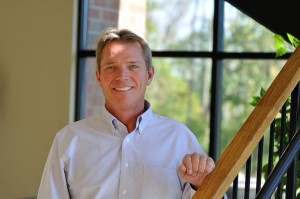 Star player, family man, Dave Staun is many things. When you meet him, his bright-white smile will immediately disarm you. He's a warm, glass-half-full kind of guy, who exudes positive energy that's absolutely contagious.
As the Sales Manager extraordinaire on the LCS side of things (the company's non-Rent Manager products), you'll often find him touting the features of NDT phones/ VoIP technology and collaborating with the IT Services team. I caught up with Dave to find out how he scored his position at LCS, and what life is like on and off Cottonwood Drive…
A Little Background
Born an Indiana Hoosier, Dave moved to the Buckeye State at the tender age of three. The youngest of nine children (Dad was a salesman, Mom was a homemaker), Dave's sense of family is, as you can imagine, very established.
Dave was raised in the strong, Cincinnati Catholic tradition that includes All Saints School and Moeller High. After leaving the nest, Dave spent time working and rehabbing houses with his brother to help fund his studies, graduating with a bachelor's degree in Business Administration from Thomas Moore College's accelerated TAP program in 1996.
Striking a Work/Life Balance
Putting his business degree to use, Dave's career took him on the road for several years. I love to travel… business or pleasure, Dave admits. Working for Interceramic, Inc., a tile manufacturer based in Garland, Texas, meant frequent trips to Chihuahua, Mexico and California. A nice perk at the time, he adds.
But ultimately his jet-setting professional life wouldn't align with his personal life long-term: Watching the kids grow up on video was not part of the plan. So Dave traded in his suitcase for more time with the fam: his wife Pam and two kids Ryan and Alison.
… And after bringing his career home, he found LCS.
A Lay of the Land
When Dave Staun met Dave Hegemann, President and CEO of London Computer Systems (LCS), he had no idea he'd be working for Hegemann a mere year later. While working for the construction company commissioned to execute the LCS property expansion project, Dave S. quickly developed rapport with Dave H. Forging a friendship as the building expanded, they established a comfort zone, and once the project was complete, it seemed like a natural fit to join forces at LCS.
He needed someone to help him sell IT services'and take some of the non-Rent-Manager products out into the local market, Staun explains. I brought contacts, sales experience, and city-wide connections to the table. It's been a really good fit for both of us.
On the Job
Originally brought on board to manage Business Development, Dave has witnessed A LOT of growth during his five-year tenure at LCS. When asked what he likes most about working at here, he quickly quips, Well, I have to say the building… not that I was part of it or anything. After the ear-to-ear grin and healthy dose of sarcasm, he continues: There are a couple things: First, a great respect for the owner; and second, the great products I'm selling!
Rent Manager may be LCS, flagship product, but Dave admits that he's more than happy to ride Rent Manager's coat tails, as it gets the company's other products noticed. It's nice, he adds, to sell desirable products that people want!
Off the Clock
When he's not on calls or generating estimates at LCS headquarters, Dave likes to take things outdoors with his family. From tennis to kayaking: Getting outdoors with my kids gives us that one-on-one, uninterrupted time that's so rare these days…
This said, ironically, by the guy who sells technology services…