Knowledgebase is a database of Rent Manager® FAQs, work-arounds, and tested solutions assembled by our Support Specialists and Instructional Resources staff. This expansive, instructive resource provides all sorts of valuable information about your Rent Manager property management software.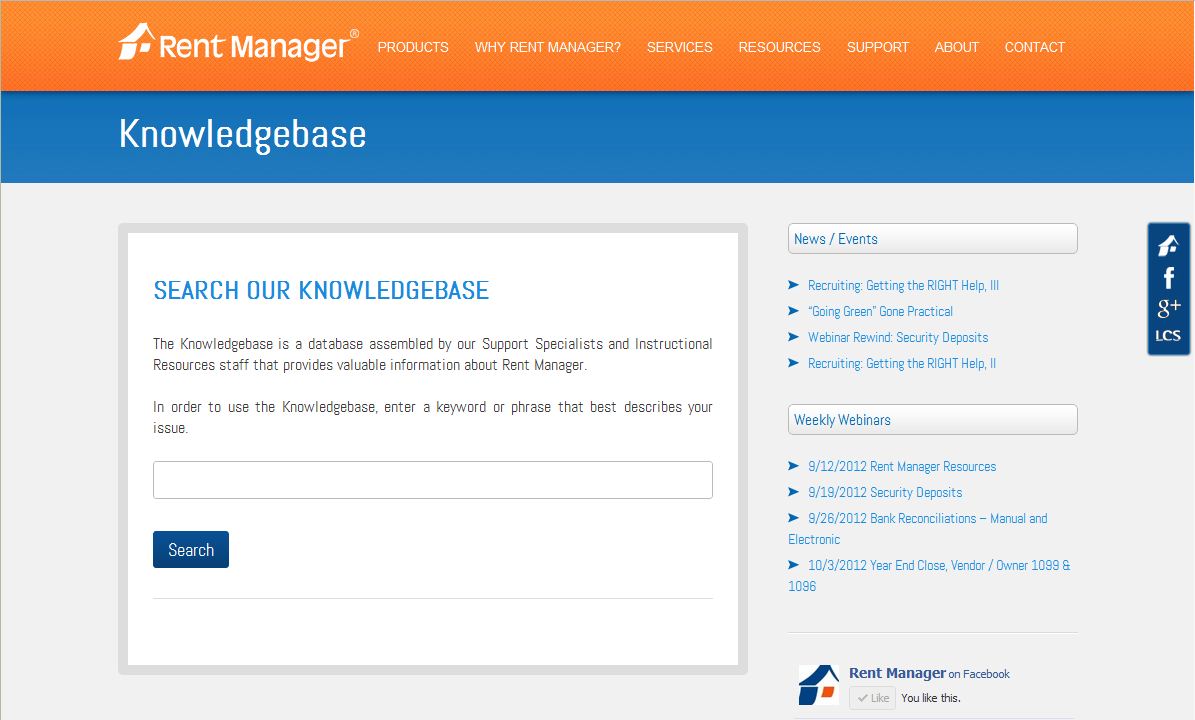 Rent Manager provides several free self-help and training resources as well as fee-based training. The complete list of available resources and services follows here:
F1 Help
The Help file provides information about every aspect of the software. While in Rent Manager, you can access the Help file in two ways:
With a Rent Manager form active, click F1 on your keyboard to open the Help file topic specific to the active form.
For example, while on a customer's general tab, clicking F1 will direct you to the Customers-General page of the Help file.
Go to Help > Help Contents.
Select the Contents tab to search through the Table of Contents.
Select the Index tab to search through indexed list of topics.
Select the Search tab to search the entire Help file with a specific phrase.
The Rent Manager Knowledgebase is a database of articles that provide detailed information on a specific topic, step-by-step instructions to accomplish a task, and steps on how to troubleshoot and resolve common issues. To access the Knowledgebase:
Go to www.rentmanager.com.
Click Support.
Click Knowledgebase.
Enter the search words/phrase that best describes your question and click Search to receive a filtered selection of articles based on your search words/phrase.
Rent Manager's training videos provide you with a demonstration of a feature or topic within Rent Manager. Some training videos include previously recorded webinars. To access the training videos:
Go to www.rentmanager.com.
Click Support.
Click Training Videos.
Click the appropriate tab (RMO Users or Stand Alone Users) and enter your credentials.
RMO Users will enter the server username and password(not the Rent Manager username and password).
Standalone users will enter their customer ID(found in Rent Manager by going to Help > License Information).
Click Login.
Expand the categories (in dark grey) to see the list of videos under that category. Click a video name and then press Play to begin the video.
Live Webinars are offered every Wednesday at 2:00PM EST. To access the Webinar schedule and attendance instructions:
Go to www.rentmanager.com.
Click Support.
Click Weekly Webinars.
Customer Support
For questions or issues best served by a live representative, you may contact customer support in one of three ways:
From within Rent Manager, go to Help > Submit Support Ticket.
Email support@rentmanager.com.
Call 1-800-669-0871.
Fee-Based Dedicating Training
Rent Manager offers fee-based training for you to spend a scheduled and dedicated block of time with a Rent Manager trainer to discuss any aspect of the software you choose. For further information about dedicated training, please contact your sales representative.
This article can also be viewed within the Knowledgebase.