As we've been pointing out, the Knowledgebase is a database of Rent Manager® FAQs, work-arounds, and tested solutions assembled by our Support Specialists and Instructional Resources staff. This expansive, instructive resource provides all sorts of valuable information about your Rent Manager property management software.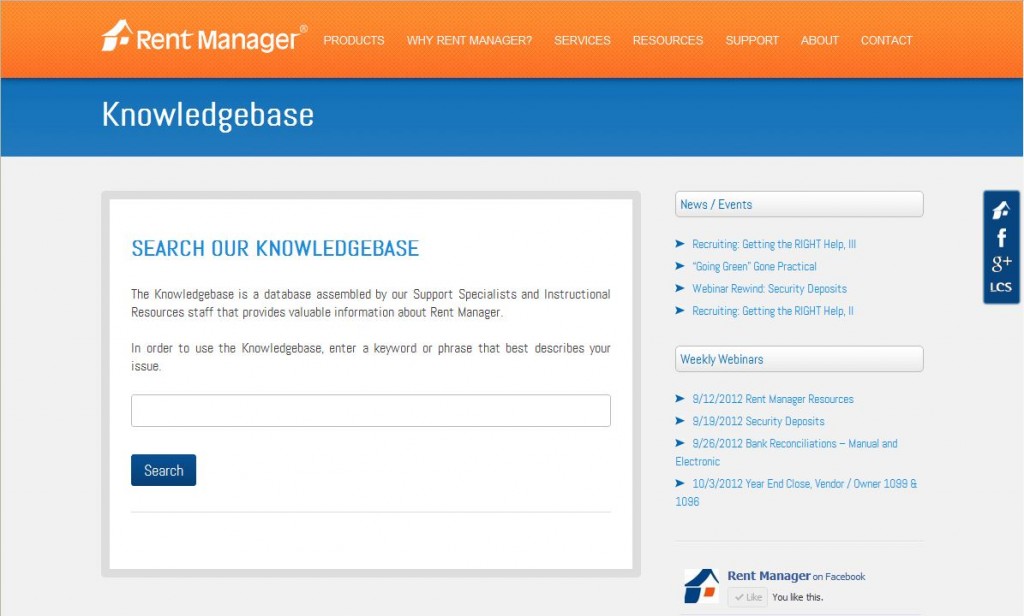 In case you've missed any of these posts, or yearn to revisit every article written in 2012, we've assembled the links to each Know the Knowledgebase entry below. We hope you find this all-in-one KTK "directory" helpful and that the Knowledgebase continues to be a helpful source of Rent Manager information for all program users at your business:
Know the Knowledgebase: Identifying Discrepancies During Bank Reconciliation
Know the Knowledgebase: Adjusting Vendor 1099s to Reflect Previous Software
Know the Knowledgebase: Rent Manager Scripting, Formatting Monetary Values to Round to the Nearest Dollar
Know the Knowledgebase: Financial Report Writer, Fixing an Incorrect Script Total Value
Know the Knowledgebase: How Do I Refund a Payment Made Using ePay?
Know the Knowledgebase: Calculating Vendor 1099s
Know the Knowledgebase: Viewing Prior Screening Reports
Know the Knowledgebase: Comparing Balance Due and Balance Sheet Reports
Know the Knowledgebase: Edit A Utility Posting For One Customer
Know the Knowledgebase: Add Other Rent Charge Types to GPR Postings
To search the Knowledgebase directly, click here.
About LCS
Incorporated in 1988 and headquartered in Cincinnati, Ohio, London Computer Systems (LCS) is a developer of business-critical software technologies used in all 50 states and several markets throughout the world. LCS products include Rent Manager® Property Management and Accounting software, Net Dial Tone (NDT) VoIP telephone systems, and Sentry Data Backup strategies.
LCS also provides enterprise-level hosting solutions via its Sentry Data Center, as well as complete network design, implementation, and support services; and custom web site design through its IT and Professional Services divisions. With more than 15,000 hosted users, LCS combines best technology with best practices to create a unique, affordable, customer-focused service.
For more information about LCS and its products, click here.