How YOU Can Benefit from Greening Your Properties
We've all felt the pressure to get onboard and go green, because basically it's the thing to do. Although I've been a die-hard recycler since before I can remember (and enjoy my share of composting), I don't expect to change anyone's mind with an ethical appeal for environmental love whoisn'talready going-for-the-green…
But what does make sense as rationale for adopting new green practices, however, comes down to your bottom line. It's true: going green can save you money.
Studies show that greening your properties and operations can actually benefit YOU and your bank account (not just Mother Earth).
How Gen Y and their Green-ness is Impacting the Rental Landscape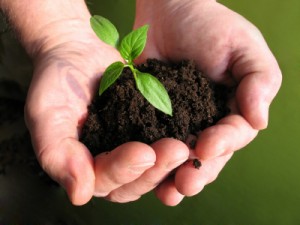 As a property manager or owner, you've heard the sustainability hype. Whether or not you have eco-conscious practices in place, the renting population wants and expects to live green. Living in a sustainable environment appeals to 20-somethings as much as the latest techy gadget does. And with Generation Y (the Millennials) as the largest population of renters, attracting them WILL make a difference in your business.
Simply put: Gen Y wants green AND they are willing to pay more per month for the privilege. So it only makes sense for you to go green (at least somewhat) to attract the population that's willing to pay for the effort. You may need to invest in the short-term, but it doesn't have to be a giant undertaking.
There's no need to install those solar panels just yet. Simple steps make a substantial difference and will allow you to market your properties as eco-friendly/ sustainable/ environmentally sensible, etc. Ultimately, you will be simultaneously saving with more-efficient systems AND benefitting from increased rent'all while attracting the renters you want and need!
Reason #1 to Get Greener: Attract Great Tenants
Green properties attract a certain type of tenant: professional, driven, and conscientious. (So they most likely pay bills on time, too). Sound like a population you want to attract? If so, realize that greening your existing structure(s) or adopting green practices (energy, recycling, etc.) will entice this group of potential tenants.
By touting your newly-greened status, you'll notice a difference in the kinds of customers you attract!
Reason #2: Raise Rent and Occupancy Rates
You want good tenants? A lot of good tenants want some form of green amenities. BUT here's what's in it for you: renters are willing to pay an average of $100-$150 more per month[ii] for green rental options. Gen Y wants to know how they will save now with efficient systems in place and in the long run… and they want to feel confident that they are benefitting the planet in the process. Millennials are willing to pay to live green.
Reason #3: Save in Operational Costs
Again, it's not all about saving the Earth when we're talking about greening properties. Thinking practically, it makes sense to keep sustainability top-of-mind when you're building new or reimagining existing properties. Tax credits, rebates, LEED-certification, and other benefits are available when greening your spaces'not to mention the operational savings month-to-month when more-efficient systems are in place.
Reason #4: Decrease Turnover
Lease renewals are very high (above 65%) for residents living in a green community.[iii] And when renters are contemplating lease renewal, green features make all the difference.
How are you using resources? Even if you start small, you're going to reap the benefits of greening.
10 Big-to-Small Ways to Go Green and Save:
Invest in energy-efficient windows (number one attraction to tenants)
Transition to energy-efficient appliances (kitchen, laundry)
Electronic leasing and renewal options (paperless leasing)
Install low-flow faucets, showerheads, and toilets
Organized recycling program
Community garden/composting
Recycled carpet
Non-VOC paint
Ecofriendly air filters (like MERV 8)
Use energy-efficient light bulbs
---
[i] Binsacca, Rich. Sealing the Envelope: Secrets of Energy-Efficient Buildings.Multifamily Executive Magazine.Winters, Amie. Marketing to Gen-Y Renters.
[ii] Winters, Amie. Marketing Your Green Community. Multifamilybiz.com. Rent.com.
[iii] Winters, Amie. Marketing Your Green Community. Multifamilybiz.com. Rent.com.