Who are you?
Chris Blackmon, President of Rent Athens, LLC, and co-founder of Atlas Real Estate Advisors
What is the nature of your business?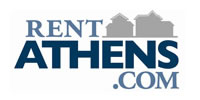 Rent Athens is a full-service property management company that specializes in residential and commercial real estate. We provide full-service administrative services to our customers, including tenant screening, maintenance services, and complete accounting. Thanks to the hard work of our 18 employees, we currently maintain more than 1100 commercial and residential properties.
Where is Rent Athens located?
We have four offices in Athens, Georgia and one location in Wilburn, Georgia. Athens is home to the University of Georgia, so students make up a large percentage of our residents.
When was Rent Athens established?
In 2011. Our parent company, Atlas Real Estate Advisors, has been in business since 2007. Atlas is a real estate investment company that specializes in commercial properties and represents buyers, sellers, and investors throughout northeast Georgia. From acquisitions, to leasing, to assisting with property tax evaluations, to facility maintenance, there's nothing our two companies can't do.
Why did you choose NDT Hosted VoIP?
We've relied on Rent Manager® property management software since Rent Athens' early days, so when our sales rep shared that Net Dial Tone (NDT) could be fully integrated with the program, it was a no-brainer.
Every time the phone rings at one of our offices, the caller's information is opened in Rent Manager®, giving our staff immediate access to the tenant/vendor/owner's history. The call is also recorded and automatically saved to that contact's history in the system. And because our agents initiate their calls through Rent Manager®, we're able to capture this same data for all outbound phone calls.
NDT offers a lot of great features'we've connected our five locations through the system and use the call-transfer option all the time'but the logging and recording of our phone communications has been huge for us. We use the call database to refresh our memories, check facts, and provide background for the issues we've discussed on the phone with our owners, residents, and suppliers.
The call records are priceless'they have helped resolve so many problems and have been a huge source of relief for our employees. When you've got a recording of a conversation, the he-said-she-said and take my word for it scenarios are completely eliminated.
NDT gives us the tools to streamline and simplify the way we work, which is always a welcome find.
—
Learn more about Rent Athens here.
Get a complete overview of NDT here.