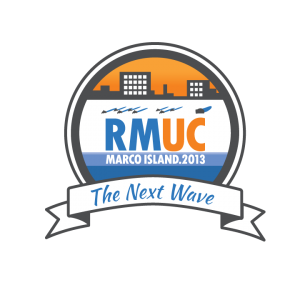 We're a week away from the registration deadline for the 2013 Rent Manager User Conference and the Marco Island Marriott is already full (as are two of our alternate hotels)! Don't worry, there are plenty of rooms available just up the street from the Marriott, but aren't you curious about what's got so many Rent Manager® users heading to Florida this November? That's easy'
it's more.
More sessions. More hands-on learning. More experts. More innovating. More support. More networking. More insight. More Rent Manager. More YOU!
RMUC.2013 is all about delivering more of what you need to advance and optimize your property management business (plus, we plan to have a little fun while at Marco Island). Highlights of the conference include:
Choose from more than 50 traditional and hands-on courses that have been designed to help you make the most of your Rent Manager software and your property management business.
RMUC.2013 features two tracks of 17 hands-on sessions, twice as many as last year! Learn by doing as you listen to a condensed presentation and work through new topics in a lab-like setting.
Get pivotal advice, observations, and insights from industry experts who've been in your shoes and understand your goals and challenges.
Meet members of our Development Team, the folks who write Rent Manager, and discuss your thoughts and ideas for future enhancements.
Schedule some face-time with a Rent Manager support technician to address your specific needs.
Connect, share ideas, and learn while networking with other Rent Manager users. Rub elbows with industry experts and panel-discussion leaders and find out how other property management professionals use Rent Manager to benefit their businesses.
Learn about upcoming Rent Manager releases, and how they'll enhance your operation, directly from LCS President and CEO Dave Hegemann, and Chief Technology Officer Tony Little.
And when it comes to enjoying yourself at Marco Island, the possibilities are endless. There's so much to do when you're not in session:

Opening Reception: Kick off the conference in tropical style during this evening full of ocean breezes, drinks, and hors d'oeuvres.
Neon Nights: Watch the sun melt into the Gulf with your fellow conference-goers and enjoy dinner and drinks amidst retro-cool neon lights, just steps from the ocean.
Florida-Style Fun: From luxurious spa treatments, to championship golf, to uniquely Florida experiences, the Marco Island Marriott Resort offers top-of-the line entertainment options during your visit.
We've been telling you for months that the 2013 Rent Manager User Conference is going to be epic, and we weren't kidding. Make sure you get more out of your Rent Manager experience, more out of your property management business, sign-up for RMUC.2013 before the registration deadline hits on September 30th!