Virtual Classroom: Rent Manager 201
2 P.M. EST, April 18, 20, and 22
Take the Next Step in Advancing Your Rent Manager Experience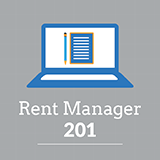 Virtual Classroom: Rent Manager 201 shares instruction and insight into the many ways you can optimize your property management processes in Rent Manager Xi. Get more out of the parts of the program you already know, and discover valuable features that you might not have known existed!
Consisting of three, 2-hour online sessions, this hands-on course will help you do more with Rent Manager than you ever thought possible. Our focus will include:
The Tenant Life Cycle Learn how to manage the life cycle of a tenant from start to finish. Enter new prospects into Rent Manager, measure the performance of your marketing campaigns and leasing agents, find out how to properly move-in and move-out customers, transfer residents to new rentals, and more.
Transaction Management Effectively manage and streamline the charge and payment collection process. Learn to prorate charges and receive batched payments; get hands-on practice charging, receiving, and refunding security deposits; and discover the best way to set up and update auto charges. We'll also explore the reports that can help you track your properties' financials.
Business Tools Did you know that you can customize Rent Manager to meet the specific needs of each business and to each business user? Learn powerful customization features that can improve employee performance, increase data security, and keep everyone on top of their day-to-day responsibilities.
As a participant, you'll also receive a handy training workbook to help maximize the retention of your new-found knowledge and skills.
Plus, you'll learn everything from the comfort of your home or office!
Who should attend this session?
Rent Manager 201 is perfect for employees who are familiar with the basics of Rent Manager Xi, and want to further hone their property management skills.
PARTICIPANTS RECEIVE:
SIX full hours of instructor-led, hands-on training
An in-depth Rent Manager 201 workbook
1-week "fast-pass" instructor access to answer all of your Rent Manager questions
Register soon, enrollment is limited to only 25 attendees!
Sorry. Registration is now closed for this class.