When I bought the software, I decided it'd be a career…
Jeremy Aspen is the President and CEO of Certified Property Management (CPM), where he currently manages over 1,100 residential units, along with commercial properties, in the greater Omaha, Nebraska area. CPM's real estate values total nearly $100,000,000.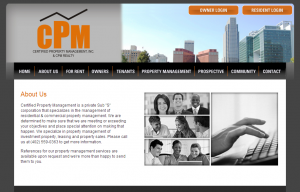 The History
After a career in international supply chain management, Jeremy was ready to make a change.
This shift happened organically when, in 2006, CPM came into being largely out of necessity. Jeremy had owned and managed multiple properties in the Omaha area for several years, so when the opportunity came to manage other properties it seemed like the next logical step: I'm already successfully managing my own properties, why not manage other people's properties, too?…
Thus, Certified Property Management was born, and the business would grow to become a major player in Nebraska real estate.
Talking Software
When I bought the software I decided it'd be a career, Jeremy explains. This is when he realized he would go deep and dig his heels into the property management industry.
While building a new company and career, Jeremy tried another property management software suite, but was less than impressed. It didn't take long, however, for him to discover Rent Manager® Online Edition, and to be drawn in by the online component.
Power User
Jeremy is what we like to call a power user, in other words, he's quite fluent in Rent Manager. He knows the breadth and depth of the software. Rent Manager is malleable enough to incorporate our own strategies and ideas'while also making us a better company, he asserts.
Jeremy's power-user status extends beyond Rent Manager, as CPM has integrated virtually every product and service that LCS (the developer of Rent Manger) has to offer: If you have it, we've got it. From NDT VoIP telephone service to Sentry Data Backup, CPM is fully on-board.
Why Rent Manager?
Certified Property Management has grown at least seven times since its start with Rent Manager, expanding from the early 100 units to 1100 presently. For Jeremy: The products we choose to use are an important piece of running our business. I like the way [LCS] handles Customer Support, and the way its Professional Services group considers our ideas and how we can integrate them into our systems.
With ten Rent Manager users on his staff, Jeremy keeps them up-to-date with the latest Rent Manager features by attending the annual Rent Manager User Conference. Jeremy has even been featured as a guest speaker at the event. Why does he keep going? I go for the new ideas… and the networking.
Would Jeremy Recommend Rent Manager to Other Property Managers?
I already do, regularly.