Contributed by the AvidXchange Team
AvidXchange is offering a free educational webinar, AP Best Practices for End-of-Year, on Tuesday, October 28th at 1:00 pm EST. The webinar will feature Rhonda Rogers, Accounts Payable Guru, who will be sharing the best practices that she's developed for year-end over the last 20 years in the Accounts Payable field.
Below are a couple of the topics that she will cover:
It's a Date
Setting Up an End-of-Year Calendar for AP Success
It's hard to believe that End-of-Year is rapidly approaching. It seems like we were just looking at schedules for summer vacation, and now the requests are rolling in for the holidays. It can be a challenge as End-of-Year approaches to grant all of the vacation requests, because it's important to make sure that there is appropriate AP staffing. However, by getting an early start on the prep work for End-of-Year, everything tends to run more smoothly. It seems simple, but as you're getting out your calendar to mark all of your holiday festivities, it's also important to sit down and establish a calendar with deadlines and due dates.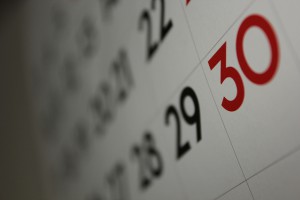 Some things you should include on your calendar are:
A date to review your 1099 supplier info
A reminder to email employees about submitting 2014 expenses to AP
A date to analyze open purchase orders for goods received & not invoiced
Task Master
Assigning Year-End Related Tasks to Appropriate Team Members
At AvidXchange, one of our core values is playing to our strengths. This means that we assess the talents of everyone on our teams, and enable them to do the tasks that they do best. It is the same core value that Rhonda has used with her teams for years, to ensure that everyone is on the right task for the most efficient year-end close. For example, if you have a seasoned team member that has great report with employees, it would be beneficial to have them send out the reminder to the company about submitting 2014 expenses to AP. Since they have a relationship that they've cultivated with people over time, the message will carry weight with them, and create a sense of urgency to get expenses submitted. If there are lagging employees, then it will also be easier for this person to follow-up with employees and communicate with them in a way that will be effective and well received. It's important to identify all of the different skill sets on your team, and assign tasks accordingly. It becomes imperative to know who will be completing what when you are scheduling staffing for December and January.
During this webinar, attendees will receive some helpful resources to make Year-End easier, including:
An End-of-Year Checklist for Your AP Team
Sample End-of-Year Calendars with Important AP Dates'Everything from New Year's to Accruals
How To eBook for AP Year-End Best Practices
The webinar is strategically scheduled for the end of October to enable attendees to implement the best practices over the next couple of months, to make their year-end process more efficient. Early preparation results in appropriate staffing, and completing the right foundational work to avoid delays when closing out expenses for the year.
Photo credit: DafneCholet / Foter / CC BY