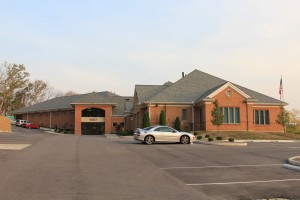 We've talked about how green-ing your properties doesn't have to be all about earth-loving and tree hugging. It can be a practical choice, and actually save you money.
Here at LCS (aka Rent Manager® Headquarters), we know a little bit about greening, saving, and growing. And because we love our devoted blogees, we thought we'd share some bits about our recent building expansion…
LCS Gone Green: A Little History
In 2008, LCS was virtually busting out of its 5,400-square-foot space (located in Loveland, Ohio). By adding an adjoining building to the original structure, the company quadrupled its square footage, netting out at just under 20,000, and made a statement about the business' staying power in southwest Ohio.
The plan to preserve and match the existing LCS building meant adopting/cooperating with the original builder's approach: an over-designed, over-built structure. By choosing to expand with the same-caliber construction in mind, LCS would reap the benefits of sustainable building, and ultimately put itself in a position to save money.
A great deal of thought went into reimagining/remaking the LCS facility. Matt Purintun, Purchasing & Facilities Manager at LCS, was commissioned by CEO Dave Hegemann to head-up the new building project. Purintun and Hegemann eagerly navigated the challenges and questions they faced head on…
Green Challenge #1: What about the land?
If you've visited the LCS headquarters, either before or after the renovation, you know
that the building is situated on a hill, in a partially wooded area.
Before breaking ground on the new addition or making any major decisions, concerns about keeping the woods, wildlife, and Little Miami watershed in mind came to the fore. After consulting with a number of construction professionals, Hegemann called in a civil engineer who recommended changing the building's position on the lot, to preserve the natural environment as much as possible.
Instead of hauling 400 truckloads of dirt offsite, disrupting the ecosystem, and affecting/increasing water run-off, Hegemann opted for a series of design modifications:
#1: Reimagine the structure
#2: Incorporate a sloped driveway/parking lot (increased elevation in certain areas of the lot)
#3: Partially bury the building's first floor
With a few adjustments to the original vision for the space, the team maintained their mission to maintain and sustain the environment surrounding the structure.
Green Challenge #2: Can we make sustainable choices AND keep the costs down?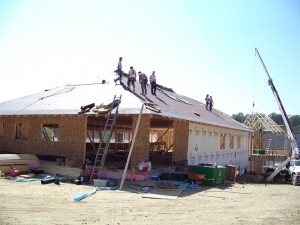 By making sustainable choices, we were put in a position to save money, shared Purintun. Although building/renovating with green goals in mind may be a larger investment on the front end, the initial investment will mean lower costs over time.
Here are just some of the ways LCS made long-lasting, sustainable decisions:
Choose Renewable, Starting with the very bones of the building, and keeping with the existing approach, the team settled on wood construction (a renewable resource). Using a larger dimension of lumber, the wall cavity is larger than in a standard building (for more optimal insulation).
Think Thicker, All exterior walls are 2×6-construction, allowing for more insulation in the wall. Greater wall thickness and exterior sheeting increases R-value (the measure of insulation's ability to resist heat traveling through it).
TIP! By raising the R-value in your building materials, you're typically improving the comfort in the building and using significantly less electric/natural gas to heat and cool.
Natural=Cleaner, Purintun noted, We use natural gas, which is by far the most effective and clean energy source currently available.
Go Low-Flow, LCS was also interested in conserving water. Purintun selected as many low-flow plumbing supplies as possible because they "get the job done."
Windows are Worth It, Because of the wall thickness and efficiency benefits, the team selected efficient, high-end windows for the new construction. We picked out a specific tinted-glass window with a low-emittance (low-E) coating and the best-possible U-value (rate of heat loss) for this style building, shared Purintun.
The result of these choices is that the facility's windows are aesthetically pleasing, don't necessarily need blinds, and they allow very little solar heat gain.
Allocating a little more capital in sustainable construction has a snowball-like effect. Because the windows and walls are efficient, it made a lot of sense to go with all high-efficiency furnaces and air-conditioning units, and truly access their benefits.
Through a process of research and education, and by spending a little more up front, Purintun and Hegemann found sustainable materials that made sense for their project goals and budget.
We'll delve further into the cumulative effect of sustainable building methods in the next installment of this article. Check it out here:
A Property Expansion'Sustainable from the Inside Out