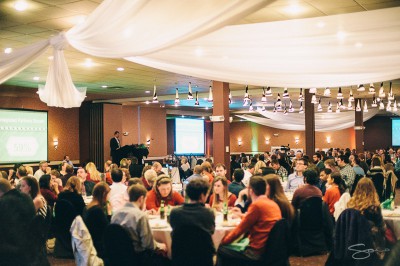 Although the new year is already in full swing, we've decided to take a little time to reflect on the successes of 2015. Last year was a big one for Rent Manager®. We released dozens of exciting new features, hosted the biggest Rent Manager User Conference (RMUC) yet in New Orleans, and continued the impressive 15-year streak of at least 18 percent annual growth. Sure, these are good times for our company, but none of this could have been accomplished without the outstanding efforts of our talented staff.
To honor the hard work and great achievements of those at London Computer Systems (LCS), the company behind Rent Manager, President and CEO Dave Hegemann presented five employee awards at the annual LCS holiday party in December.
The awards were decided in true democratic style, opening the nominations up to everyone in the company. All employees were encouraged to provide input on each award category including the Rookie of the Year Award, Customer Service Award, LCS Spirit Award, Innovation Award, and finally the Outstanding Achievement Award.
While so many at LCS contributed in a team effort, Dave was happy to highlight several key members who have played a significant role in 2015.
The first award of the evening was the Rookie of the Year Award, to recognize one individual who made a unique impact within their first year at LCS. This award went to Director of Human Resources Rachel Huizenga, for her dedication to creating appreciable change in the company's approach to HR. Here's what some of her co-workers had to say:
"Rachel has done great things since starting at LCS. She's been actively trying to get employees to participate in Humana Vitality activities and is always available. Learning that she's working with local restaurants and companies so that we can receive additional discounts is awesome. She's really done a lot in her short time at LCS."
"Rachel came in and just jumped right in on getting things done. She is very invested in what happens and making sure that everyone's voice is heard. Rachel has a great knowledge of her job and has really shown that she cares about what she is doing. Execution is one topic LCS is big on and Rachel executes well!"
The second recognition was the Customer Service Award, given to Account Manager Jeremy Moore. One co-worker expressed, "I admire Jeremy's work ethic, creative thinking, and the way he always looks at the glass half-full. He works hard, is detail-oriented and goes above and beyond to make sure our customers are happy."
"Jeremy's level of customer service is incredible. He knows exactly when to escalate an issue and does not let anything fall through the cracks. His day-to-day organizational skills have allowed him to excel in this role and it has definitely not gone unnoticed by his customers."
The third honor given was the LCS Spirit Award, rightfully earned by Director of Implementation and Training, Chris Griesinger.
"Chris makes LCS fun! He makes us all laugh with his one-liners and sarcastic remarks, and he keeps the office entertaining and enjoyable. Whether it's during lunch in the break room, a training session, a webinar, or the Rent Manager User Conference, everyone loves to be around Chris and his fun spirit."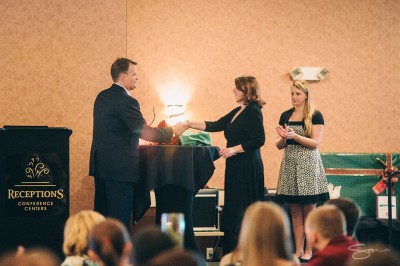 Next, the Innovation Award was given to Software Developer James Gibbs who, "utilizes his knowledge to make the Rent Manager 12 product better and more centralized, with different components like Web, Desktop, API and mobile applications," said one of the nominators.
"He has made some major changes in the architecture of the product and they have only helped make the product better in terms of performance and more developer-friendly."
The final award of the night was a tie between two very deserving individuals. Rent Manager Xi Team Lead, Jill Mielke and Director of Client Services, Lori Weaver both received the Outstanding Performance Award for their contributions in 2015.
"Jill Mielke is a clear winner. She is everything we hope to have as a contact in the development group. She picks up her phone on the first ring, does everything she can to help us, and is almost single-handedly fixing all of the issues in a product used by almost 20,000 users. The Support group loves her," said one employee.
"Jill is such an amazing person. She is always willing to help. I nominated her last year because of her dedication and hard work and the same has followed through this year. Anytime I call her, she makes time for me; she answers with a smile and never makes me feel like a bother. For someone to always take the time to look at an issue or explain a process year after year without any hesitation is very deserving of this award."
Those close to Lori Weaver said, "She truly goes above and beyond in everything she does. Whether it's answering a staff member's questions or working on the weekend to resolve a client's issue, she takes ownership and gets things done with a smile and a kind word."
"She works very hard at keeping customers happy and is an incredible manager. She does an outstanding job not only with clients, but in managing a large group of people. She is professional, courteous, and always available when needed."
It's clear that the winners of the 2015 LCS Employee Awards were more than deserving of their recognition. The entire team at Rent Manager pulled off another record-breaking year and is looking forward to more great achievements to come in 2016.