Julie Kuhn and Brittany Christerson received special recognition at the annual LCS holiday party when President and CEO Dave Hegemann announced that they were voted the outstanding employees of 2013. The presentation of the awards was a high point of the event, which took place December 6th in Cincinnati.
Julie, a Professional Services Team Leader, was named Rookie of the Year; and Brittany, Rent Manager Sales Manager, received the Outstanding Achievement award.
Every year, the company's employees nominate a coworker for each award and provide an explanation as to why their nominees deserve the recognition. As Dave pointed out, A lot of great things were said about our employees during the nomination process… I learned some things about our team as they explained the reasoning behind their votes.
Singled out from the company's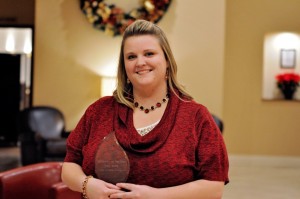 new employees, Julie made her first year with LCS a great success. Here's what her coworkers had to say:
She stays late and comes in early every day. She is a great leader, not just for her department, but for everyone else she works with.
Julie is always very professional and sets the correct expectations with our customers. She has helped streamline some of our processes and it has made working with her a real joy!!
Julie is excellent at communicating with our customers, as well as with us internally. She does a fantastic job of staying on top of the customer needs and where things are within a project.
Brittany was one of over 100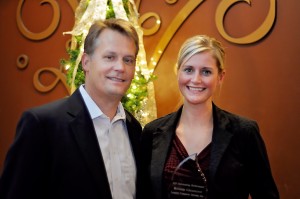 employees eligible to receive the 2013 Outstanding Achievement Award. Not only did she fulfill her role as Sales Manager this year, but she impeccably organized and planned the 2013 Rent Manager User Conference.

Here's why her peers nominated Brittany as being truly deserving of this accolade:
Her dedication to her work is unmatched and willingness to sweat every detail is inspiring to me and others that work directly with her.
I think Brittany sees the BIG picture and is constantly trying to push this company to the next level. I am impressed with her dedication, leadership and overall organization.
I am not sure if she is superhuman or not but, she is a major asset to this company. She works long hours and is extremely organized and I know that has a lot to do with her success. I can say I am glad that she is on our team! I think she deserves this more than anyone!
She is the strongest, most determined, and most driven person I have ever met. She leads by example and her passion is contagious. The User Conference is a massive undertaking, and she refused to settle for anything less than PERFECT regarding even the smallest details.
I'm still not sure how it was possible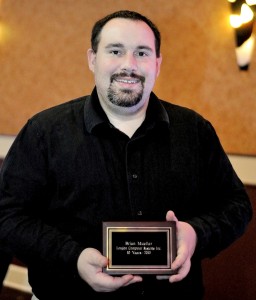 , but somehow Brittany managed to plan a very successful User Conference AND be the Sales Manager. She did a great job juggling both and deserves to be recognized for basically doing what seems to be two full time jobs. She is very passionate and is a true asset to LCS.
Another recognition award given at the event was for Brian Mueller's TEN years of service and dedication to LCS.
Please join us in congratulating these outstanding employees and their commitment to being the best of the best at LCS!
Photo credits: Andy Williamson, Shannon Slattery